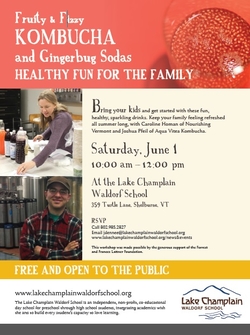 Saturday, June 1, 10:00 am – 12:00 pm
Learn to make cultured, fizzy, probiotic beverages like kombucha and gingerbug sodas to keep you feeling refreshed all summer long with Caroline Homan (Nourishing Vermont) and Joshua Pfeil (Aqua Vitea Kombucha). Learn about starter cultures like kombucha, gingerbug, and whey and taste some great seasonal examples of these beverages made with whole fruit or tea leaves and unrefined cane sugar. Have frozen berries in your fruit stash at home? We can use frozen fruit to flavor these beverages, too! Bring your kids and get started today with these fun, healthy, sparkling drinks. [expand title="Read More" rel="fiction"]
Caroline Homan is the chapter leader for Nourishing Vermont, the local chapter of the Weston A. Price Foundation, which is dedicated to restoring nutrient-dense foods to the human diet through education, research, and activism.
Since 2007, Joshua A. Pfeil has been a Chef Instructor educating hundreds of conferences and classrooms on fermentation and the nutritive values of whole foods. Recently, he co-authored "Culture of Personality: A Guide to Fermentation" while dividing his time between working as a sales representative and educator for Aqua Vitea Kombucha, managing and operating Cellar Door FoodWorks and tending the land of Naked Newt Farm with his wife Hannah C. Pfeil.
RSVP to JoAnne Dennee or call (802)985-2827. The Lake Champlain Waldorf School is located at 359 Turtle Lane, Shelburne.
This workshop was made possible by the generous support of the Forrest and Frances Lattner Foundation.[/expand]