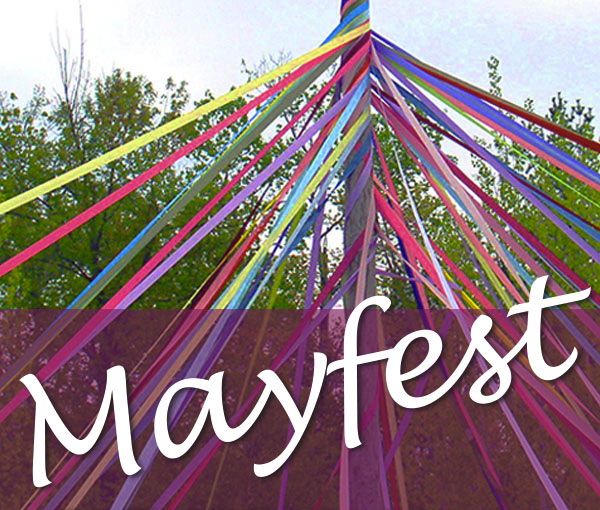 Saturday, May 3, 10:00-2:00
Long ribbons are now secured to the top of a 30 foot wooden pole that stands in the center of the playground at the Lake Champlain Waldorf School. This Saturday the colorful ribbons will unfurl and young children and their families will celebrate the arrival of spring at LCWS's 29th annual Early Childhood Mayfest. This outdoor celebration, designed for children ages six and under, includes live music, crafts, maypole dancing, flower crown decorating, games, jump rope making, face painting, pony rides and other festivities.
"I love bringing my children to a festival that is so beautifully geared to the young child," comments Abigail Dielh-Noble who has young children. There are families with blankets on the lawn, fiddle music, seed planting and corn grinding–everything is fun, and nothing is too much. It's a joy to have a day like that every year."
Students in the upper grades will play traditional music throughout the celebration and will work alongside parent volunteers to make the day special and memorable for young children. "When I was little, my favorite part of Mayfest was weaving a willow crown and decorating it with as many flowers and ribbons as I possibly could," said eighth grader Sienna DeVoe-Talluto. "This year I get to volunteer to help the little kids make their own crowns."
Delicious, organic food, prepared by the school's Nourishing Foods Initiative, will be available for purchase.
The Early Childhood Mayfest is free (except for the pony rides) and takes place from 10:00am to 2:00pm at the grade school campus located at 359 Turtle Lane in Shelburne. In additional to the Mayfest activities, families are invited to explore the Lake Champlain Waldorf School's classrooms, forests, gardens, fields and playgrounds. If Saturday's weather is unpleasant, event details will be posted on the school's website: