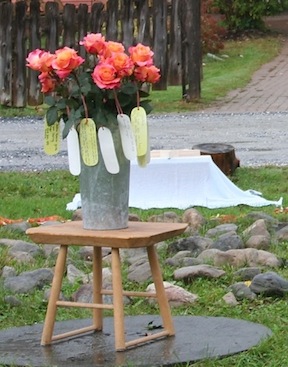 It has been one year since the passing of Joshua Nolan Moore, a beloved little boy in my kindergarten who unexpectedly died last year on October 24th, at the age of six.
Our school community is honoring Joshua in two outward ways.
Today, faculty and staff, parents and friends of Lake Champlain Waldorf School gathered around the labyrinth at the Turtle Lane campus to partake in a celebration of Joshua's life and a commemoration of his death. We sang a song written by Alice Damon (Grandmother of Sunny and Magnolia Francis). You can download this song off our website to learn to sing with us at the ceremony if you wish (A Song for Joshua). The proceeds go directly to a scholarship fund that Joshua's parents (Christina and Jason) set up after he died to benefit children who otherwise would not be able to attend our school. Here are the words for A Song for Joshua:
Put a circle of white light around you
Put a crown of bright stars on your head
May the fountain of life flow all through you
Put to rainbow wings at your back
We are children of the mother
We are children of the father
This song was written to sing in a round. But because my children are so young we just sing it as is. The recording is in a round.
On Thursday evenings, from 6:15-7:00 PM, those who wish to take part in a gathering to remember Joshua may meet in my kindergarten room for a time of song, verse, stories and candle light. We will meet every Thursday evening until the December holiday break. These Thursday evenings are for Joshua as well as for anyone who has crossed the threshold; so if you have lost a loved one in your life and would like to honor them in this way please know that you are welcome to join us.
If you have any questions regarding these celebrations contact Sueanne Campbell, Pam Graham or Lisa Espenshade.
Please hold the Moore family in your hearts as they navigate this difficult and beautiful time of the year.
Blessings to you and yours.
With Love,
Sueanne Campbell, Kindergarten Teacher