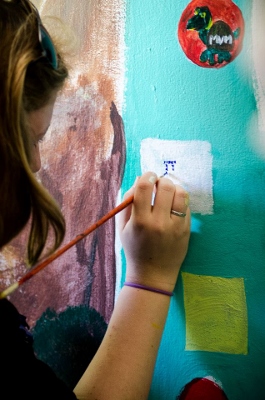 Thank you for your interest in Lake Champlain Waldorf School. We are located just outside of Burlington, VT a small city rich in cultural activities and outdoor recreation. We have students come from all over the world and they thrive in our small but welcoming school. You can apply for a shorter term stay as an exchange student, or apply to stay for an entire school year or more as an fully enrolled international student.
Fully Enrolled International Student
Our high school welcomes students from China, Brazil, and other countries to enroll for one or more years. Please contact our Enrollment Coordinator, Melinda Haselton to begin the process. We encourage you to read through our website to get to know our school.
The 2017-2018 Comprehensive International Student Tuition Rate for grades 9 – 12 is $33,775. This fee covers tuition, curricular support, class fees, and hot lunch. Boarding with a Waldorf family is an additional cost.
To apply please complete our High School Application and submit your $100 application fee. Once we receive your complete application, the Enrollment Coordinator we will contact you to set up an interview either in person or via Skype. We will notify you of our decision within two weeks. Within two weeks, you can enroll your student by submitting a signed enrollment agreement and tuition deposit.
Exchange Program
Our high school has a vibrant international exchange program with French and German speaking students as well as students from English speaking countries. In addition, we have students from China, Brazil, and other countries come for part of all of their high school years.
Learn more about our International Exchange Program and contact Alice Lissarrague or call (802)425-6195 ext. 28 with questions. Please refer to the following documents for more information about our program.
Related Documents
International Exchange Letter to Incoming Students (PDF ~ 302Kb)
Teacher Recommendation (Docx ~ 2.4Mb)
English Teacher Recommendation (Docx ~ 2.3Mb)
Permission and Liability (Doc ~ 2.3Mb)
Parent Application (Doc ~ 2.3Mb)
Student Application (Doc ~ 2.3Mb)
Host Family Questionnaire (Doc ~ 114Kb)
Health Forms for Incoming Students (PDF ~ 56.8Kb)
International Exchange Program Guidelines – Incoming Students (PDF ~ 229Kb)