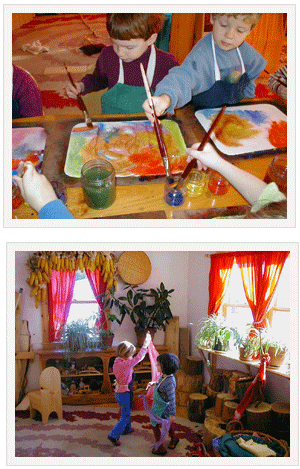 The Lake Champlain Waldorf School Caterpillar and Woodlands Extended Day Programs serve the families of our school by offering a warm, caring, play-filled after-school experience. Children can unwind, eat good food, play in nature, and build new skills in a relaxed way. Rather than provide a whirlwind of activities, we balance the activity with quiet indoor time and the arts.
Given the distances many children travel to our school, these programs provide an opportunity for friendships to flourish outside the classroom and across the ages.
Caterpillar Garden
Monday – Friday, 12:00 – 3:00 pm
Caterpillar Garden is an extension of our morning program. It provides an opportunity for morning classes to mix during a social lunch brought from home, followed by rest, then outdoor play time in our lovely woodlands, gardens, and playground.
Woodlands Program
Monday – Friday, 3:00 to 5:30 pm
Our Woodlands Program engages the children in simple crafts and art, family life rhythms such as meal preparation and chores, creative adventures in our beautiful natural setting, and animal care for our chickens, rabbits and sheep. A healthy afternoon snack is provided.
The Caterpiller and Woodlands Programs are open to Kindergarteners enrolled in the school.
Children may enroll in the program one to five afternoons a week.