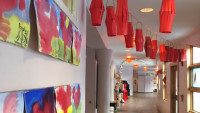 Saturday, February 17 | 10 am–Noon Celebrate the beginning of the Year of the Dog, and enjoy a morning filled with crafts, a dragon parade, and delicious food at this festival specially for kids ages four to ten and their families.
The Chinese New Year is an exciting time for sweeping away bad luck and welcoming in good fortune and our Chinese high school students are excited to share some of their traditions with our community. Kids can learn to write their names in Chinese, make a dragon puppet, learn to play Mahjong, join a dragon parade, and hear a traditional Chinese folktale. Everyone will leave with a paper envelope containing play money–a traditional Chinese token of good fortune.
Our celebration is an opportunity to sing, learn, taste, and experience how others live and celebrate. This rich cultural experience helps students build a deep respect, understanding, and care for others. It also fosters the capacity for empathy, an essential tenet of a Waldorf education. Experiential education has a lasting impact on students and is a hallmark of Waldorf education, which prizes deep, meaningful learning.
Learn how our engaging curriculum cultivates a lifelong love of learning.
Fostering the capacity for empathy is an important part of a Waldorf education. The curriculum offers many opportunities for students to step into other cultures through arts, drama, dance, food and storytelling. This direct experiential education has a lasting impact for students and is how learning becomes understanding. Waldorf students receive a thoughtful and balanced education and the curriculum is uniquely designed to meet them where they are developmentally. They go on to excellent colleges but more importantly, they become confident, innovative, and compassionate people. Our alumni strive to make a difference in the world… and go on to do just that.
The celebration will take place at:
Turtle Lane Campus, 359 Turtle Lane, Shelburne.
If you have questions email Pam Graham or call (802) 985-2827 ext. 212.
Learn more about what a Waldorf education can offer your child at our upcoming Visiting Morning. Witness classes in session and tour our beautiful campuses. The Preschool to 8th Grade Visiting Morning is on February 15 and the High School Visiting Morning is on February 14. Register here.