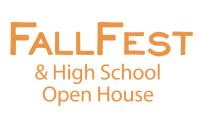 Sunday, October 22 | 1-3 pm
Join us for an experiential afternoon to learn about the High School and find out where our graduates go to college. We welcome you to our Fall Open House where we will have activities, demonstrations, and tours of our campus.
Students in grades 5-12, please come to our FallFest & Open House at the high school! Outside, make yummy s'mores with our Outing Club, carve amazing pumpkins for our little kids' Halloween Forest of Magic & Mystery with our Community Service Club, listen to live music, make a cool mask, enjoy a sundae from our ice cream bar, and watch a blacksmithing demo. Inside, observe a lesson taught by one of our fabulous teachers, meet faculty, students, and alumni, and ask questions. Learn what colleges our graduates are attending, and tour our science lab, woodworking shop, and seminar-style classrooms.
Who do you want to be?
Our talented high school faculty create a hands-on learning environment where students are engaged with a rigorous and inspiring curriculum. One of the key elements of Waldorf education is its ability to cultivate capacities for success, independent thinking, and happiness in life. Students gain a lifelong love of learning and become creative, analytical, and flexible problem-solvers. They want to do something meaningful with their lives and have the confidence to do just that.
High School Campus
122 Bostwick Road
Shelburne, VT
Questions? Contact Pam Graham at pgraham@lakechamplainwaldorfschool.org
(802) 985-2827 x212
Want to learn more about our High School? and the high school admissions process?