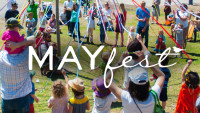 May 6, 10am–2pm
Colorful ribbons will unfurl and young children and their families will celebrate the arrival of spring at LCWS's annual Early Childhood Mayfest. This outdoor celebration, designed for children ages six and under and their families, includes live music, crafts, maypole dancing, flower crown decorating, games, jump rope making, face painting, pony rides and other festivities.

"I love bringing my children to a festival that is so beautifully geared to the young child," comments Abigail Dielh-Noble who has young children. There are families with blankets on the lawn, fiddle music, seed planting and corn grinding–everything is fun, and nothing is too much. It's a joy to have a day like that every year." Delicious, organic food will be available for purchase.
Admission to Mayfest is free, but remember to bring money for pony rides and food. It takes place from 10:00am to 2:00pm at the grade school campus located at 359 Turtle Lane in Shelburne. In addition to the Mayfest activities, families are invited to explore the Lake Champlain Waldorf School's classrooms, forests, gardens, fields and playgrounds. If Saturday's weather is unpleasant, event details will be posted here.