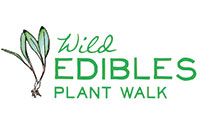 Sunday, May 28 | 1:00-2:30 pm Join Elliot Cluba of Herbs and Arrows to learn how to identify, sustainably forage, and consume wild plants, while exploring their ecology and relationship to the landscape.
Spring is here, and it's a perfect time to take a closer look at the plants growing all around us!
The walk will last approximately 90 minutes, and feel free to bring a notebook and camera. You'll walk away with a solid foundation and confidence to continue moving forward in this field. If you'd like to learn more, join Elliot the following weekend (same time and place) for part two, and take a deeper look into formulating medicine and making wild foods a part of your everyday life.
Wildcrafting 101
Basic Plant ID and Ethical Harvesting
Plant Communities and Ecology
Edibles and Poisonous look-alikes
Finding the best spots
Led by Elliot Cluba, of Herbs & Arrows, a naturalist, herbalist, and nature awareness/primitive skills educator.
Cost: $10 per person | $15 per family
At the Turtle Lane Campus
359 Turtle Lane, Shelburne, VT
Learn more about our school! Visit us at one of our upcoming events or contact our Admissions Director Pam Graham to schedule a visit.