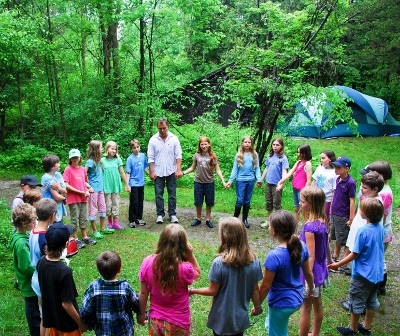 Fourth grade students are still in the middle of what we call "the nine-year-old change." They want to respect adults and be amazed by their world, but their respect and awe must be justified. They become more self-confident as their perception sharpens. The fourth grade child is consciously seeking models of competence in teachers, coaches, and others in their expanding sphere. At the same time, the child's experience of separation from his or her surroundings remains painful. Out of this difficulty, children begin to form their own personalities, consciously choosing those qualities that will make up their own characters and their ways of approaching the world.
Curriculum
Mythology
It is this faculty of conscious choice that the Norse myths strongly echo for fourth grade children. The gods of Asgard shine through their stories as powerful individuals with distinct personalities. Children identify with the trickster figure, Loki, and see the consequences of his amoral cleverness. They receive a contrasting image from the story of Siguna's compassion and faithfulness. The Norse tales convey to children the twin values of courage and sacrifice. Thor faces seemingly insurmountable odds, but through perseverance is finally triumphant. Odin, ruler of the gods, gives his eye to drink of Mimir's well so that he may gain the wisdom and spiritual vision to protect Asgard. As children become more aware of the world, the many challenges of life may at times seem overwhelming. These Norse stories help give them strength to face these challenges.
Geography
Fourth grade students continue their exploration of the world around them through the study of local geography. Their work in this subject closely mirrors the growth of the child's awareness: after learning how to find the four points of the compass, children study and make maps of their bedroom, classroom, school, neighborhood, route to school (often bringing a new awakening to the child who had been blissfully unaware during the morning commute!), the Champlain Valley, and the state of Vermont. This highly experiential block usually includes simple orienteering in our woods and adjacent nature preserve, as students come to know the familiar forest in a new, more objective way.
In this block students also are introduced to the study of history through a Vermont lens. As they learn about heroes and events in our state's past, and read historical fiction, students experience story as a way to learn about facts.
Science
In a main lesson block titled "Human and Animal," the fourth grade child has an opportunity to study the relationship between humans and animals. The block underlines the vital connections between the animal world and us, and also the differences. Students consider how important is the use of our hands, the ability to speak, and the ability to walk upright. Through poetry, clay modeling, and play-acting, children begin to develop a feeling for the fascinating assortment of skills and qualities that the animals possess. They think about what it means to be human, children often come to a new relationship of responsibility to the animal world and to other people.
In this block children usually spend many hours at the neighboring biodynamic farm, closely observing and getting to know one animal. Through drawing and written observations children learn to "research" a subject first hand. Reading about "their animal" extends the experience into the intellect, and children bring the study to completion through a written report.
Mathematics
The world, once a magical wholeness, is breaking up for fourth grade students. This is the right time to introduce fractions. By cutting up objects (including lots of food that they then eat) and creating parts of a whole, children are given a visual experience of fractions before forming mental concepts. They learn to add, subtract, multiply, reduce and expand fractions, and change improper fractions into mixed numbers.
Subject Classes
In music classes, students learn time values, harmony, the major and minor third, rounds and canons. Their work in French now includes beginning grammar, written work and simple reading; students work together to creates an elaborate French village in modeling clay or beeswax, learning vocabulary about daily life as they work. Art and handwork bring geometric and form drawing, watercolor painting, embroidery, and clay modeling. The games curriculum includes running, jumping and throwing, as well as eurythmy.
Main Lesson Subjects
Norse mythology
Language Arts: reading, grammar, composition, spelling
Mathematics: fractions, calculation of area
Vermont history and geography; map making
Study of the human being and animal kingdom