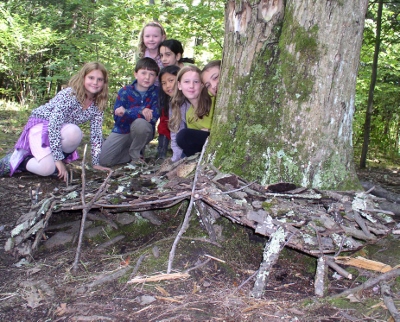 The Lake Champlain Waldorf School Woodlands Extended Day Programs serve the families of our school by offering a warm, caring, play-filled after-school experience. Children can unwind, eat good food, play in nature, and build new skills in a relaxed way.
Rather than provide a whirlwind of activities, our focus is to foster children's ability to create their own play and fun out of the natural environment. We also offer a balance of quiet indoor time and the arts.
Finally, given the distances many children travel to our school, these programs provide an opportunity for friendships to flourish outside the classroom and across the ages.
Grade School Woodlands Extended Day Program
Monday to Friday 3:00-5:30pm
For children in grades 1-5
Children may enroll in the program one to five afternoons per week.
After school children gather for snack (provided) and then enjoy supervised outdoor play and nature skills-building. In the late afternoon children may be indoors for quiet play, craft projects, and reading time.