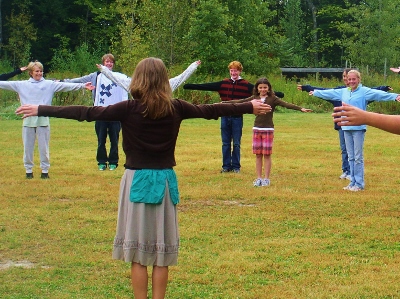 Movement influences, shapes, and even gives birth to thought. In fact, the old idea of separating academic learning from physical movement is antithetical to how learning works. According to neurobiologist Carla Hannaford, "the human qualities we associate with the mind can never exist separate from the body because physical movement is an integral part of mental processing" (Smart Moves: Why Learning is Not All In Your Head, 2012). That may be cutting-edge neuroscience, but in Waldorf schools it has been a way of life since the first Waldorf school was founded in 1919.
Every Day, First Thing
Each day, before academic lessons begin, children in the lower grades gather for morning circle. There they skip, hop, run, jump, clap, snap, and throw bean bags in complicated patterns. As they move the children sing, recite poetry, and say their times tables, finding rhythm in movement that soothes, centers, and—not coincidentally—gets the different parts of the brain working together and ready for learning.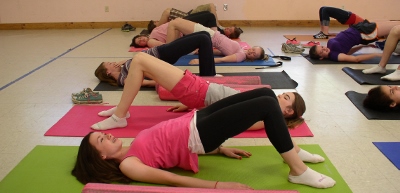 Movement is usually followed by music, either singing or playing recorder. Harmonizing literally brings a group of children together at a deep level, and provides the perfect bridge from physical movement to focused academic work.
As the children grow, the movement changes. In the middle grades students may run obstacles courses outside, jump rope, or do traditional dance before beginning their day. By seventh and eighth grade they join together to do spatial dynamics—a form of movement that emphasizes balance and form—train in circus skills, and ballroom dance. In the high school they will hike and snowshoe to prepare for rigorous outdoor expeditions or do theater games.
The form changes, but the need to move their bodies in order to engage their minds does not. At the Lake Champlain Waldorf School we know that learning is a whole-body experience. Each day in the grade school includes planned physical movement and two recesses in which children play outdoors freely. In addition, each class has a weekly physical education class in which students engage in active games and, by third grade, sports.
Outdoor Education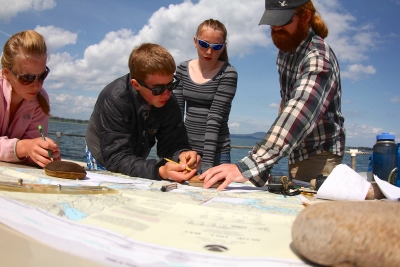 Our grade school and kindergarten are located on 22 acres of forest, river land, and marsh, nestled on the edge of the 100-acre La Platte Nature Sanctuary. It is a unique ecosystem and the springboard for a vibrant outdoor education program.
In kindergarten our students begin regular nature walks and forest play, learning about the flora and fauna of our campus through imagination and exploration. Their knowledge is deepened through nature stories and outdoor activities including maple sugaring and gardening.
In the early grade school years teachers continue nature education through regular forest walks and visits to our neighboring biodynamic farm, New Village Farm. At the farm, children take part in all farm chores, from feeding pigs to gathering eggs, and build deeper relationships to the land and animals.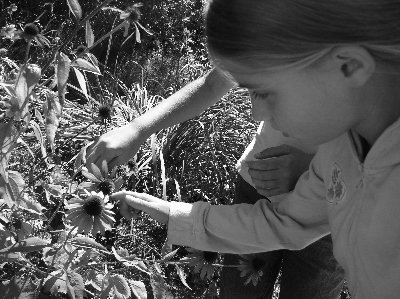 Most classes begin regular group hikes in third grade, and all take a week-long trip to Hawthorne Valley Farm in the spring of the third grade year. This first overnight trip is a beloved milestone and much looked forward to by the children. It is also the culmination of a year's intensive experience of farming, gardening, and working with sheep, wool, and natural dyes in the handwork curriculum.
In the middle grades, children experience a variety of outdoor education trips, including overnight camping, hiking local mountains, and canoeing. The final eighth grade trip almost always includes a camping component as students put to the test all they have learned about nature and themselves through their years in the grade school.