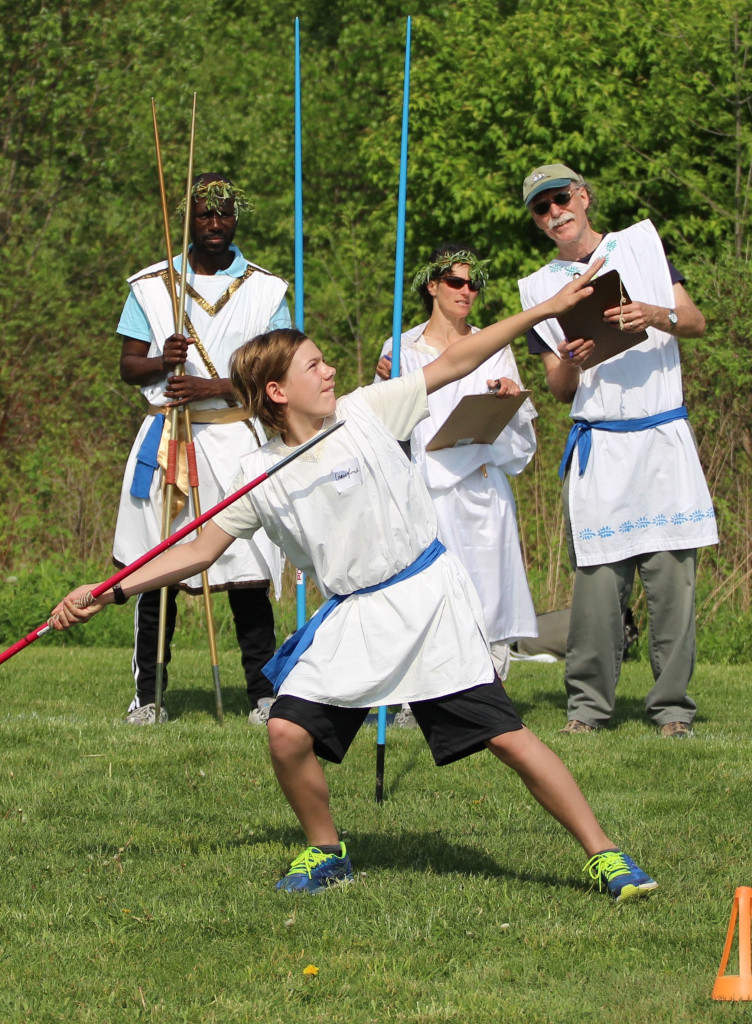 In Waldorf schools across the country, fifth grade students spend the year intensively studying ancient civilizations. From India to Mesopotamia, from Persia to Greece, children journey across the world and through time to learn about how people once thought about the cosmos–and from those studies, to learn more about themselves.
As a culmination of the year's theme, Lake Champlain Waldorf School hosts a multi-school Pentathlon, bringing the spirit of ancient Greece alive in twenty-first century Vermont.
Over 75 fifth grade students from six Waldorf schools in Vermont, New Hampshire and New York compete in javelin, discus throwing, long jump, 50-yard dash, and wrestling. They have spent a year preparing for the event: in each school, movement class in the fifth grade is focused on learning these ancient sports.
Check out this great video from Stuck in Vermont about the 2016 Pentathlon:
When they arrive at the Pentathlon itself, carrying backpacks and sleeping rolls, students are organized in cross-school groups. Their teams are named after the ancient city-state: Sparta, Corinth, Marathon, and Athens. Students compete wearing white Greek tunics, colorful sashes, and headbands. The games open with a grand procession to the altar of Zeus, accompanied by LCWS Athletics Director Mashobane Moruthane playing a hand drum. Once at the altar, each city-state makes a ceremonial offering with live music and dance, followed by the lighting of the Olympic torch. The event includes a formal "banquet" prepared and served by parents, and a sleep-over in the school with storytelilng.The next day the formal competition culminates in an awards ceremony in which everyone receives a handmade medal acknowledging his or her striving toward excellence.
The Greek Olympiad (started in 776 B.C.) was a brief time of peace—when the warriors from each of the city-states put down their arms and gathered to honor the gods through sports and performing arts. The era embodied ideals that many parents and teachers feel we need in our time.
"Lake Champlain Waldorf School's Pentathlon enables the students to bring competition, compassion and community together," explains LCWS Board of Trustees Chair Lauren-Glenn Davitian. "This is the kind of practice in civility that benefits all of us. It may very well be that these young people will set the example for us as they forge the future of democracy in the new millennium."
The games challenge the students socially and physically. For two days they strive to embody the spirit of an Olympian. The students are judged with an emphasis on truth (who is fastest, jumps the longest, or "won"), beauty (the quality and grace of movement in competition) and goodness (sportsmanship, friendliness and ).
In addition to LCWS, other participating schools include Upper Valley Waldorf School in Quechee, VT, Orchard Valley Waldorf School in East Montpelier, VT, Pine Hill School in Wilton, NH, the Waldorf School of Saratoga Springs in Saratoga Springs, NY and Mountain Laurel Waldorf School in New Paltz, NY.