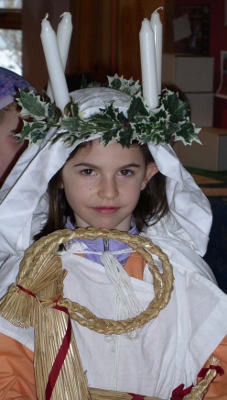 At eight years old, children still carry with them much of the imaginative wonder of early childhood, but they are also becoming more aware of themselves and others. They begin to recognize that they have their own emotions and personality traits, some positive, others negative. Honesty and deceit, trust and betrayal, kindness and cruelty—the topics of many traditional fables highlight the sharp contrast of these positive and negative qualities, as they appear to the child.
The animals in the fables have little control over the qualities that they represent: the lion must be fierce, the wolf greedy, the fox cunning. In a similar way, young children sometimes feel that they are helpless to control their strong impulses and emotions. In this context, the stories of the saints offer them a picture of the element of choice that separates us from the animals.
Curriculum
Mythology
In listening to fables and discussing stories from the previous day, children come further into the world of sharing their ideas. As children consider the actions and words of the animal characters, they note that these characters, like the children themselves, have desires, likes, and dislikes—and that some of the ways the animals try to reach their goals can get them into trouble. Children enjoy the chance to think about what the characters should have done instead, a prelude to the essential ability for children to step back and consider their own actions.
The stories of saints and heroes, meanwhile, provide examples of what human beings can achieve when they dedicate themselves to a higher purpose. Second grade students begin to see that they are capable of making choices. They can follow their own desires entirely, with consequences for themselves and others; or they can align themselves with a higher purpose, and gain control over their impulses. The knowledge that it is possible to choose one's path in this way is an exciting idea for most children!
Language Arts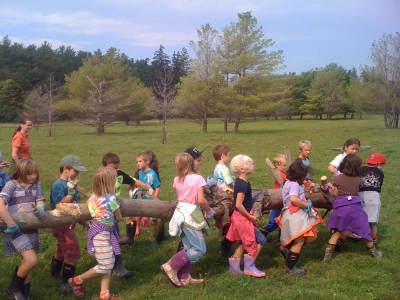 During the second grade, much attention is given to the development of writing skills, and through this, reading. This order of learning follows what we know about brain development: the practice of writing helps children "come into" words in a more comprehensive way, integrating movement, visual and aural exercises (through reading aloud or hearing words read). First reading experiences come through reading what the students themselves have written in their main lesson books. The familiar verses, words, and sentences from main lesson stories help children feel secure in their early reading.
Meanwhile, working with our educational support teacher and reading specialist, class teachers thoughtfully organize the introduction of new letter combinations and words, so that children have a firm foundation of sight words when they begin reading printed books near the end of second grade. Reading skills and good writing habits are practiced every day, and reinforced playfully and imaginatively. For instance, children might be asked to write their new sight words on slips of paper and tuck them into their socks, to rediscover and read to parents that night when they get ready for bed!
Mathematics
Second grade students continue to learn arithmetic concepts and skills through stories and games, and to review them on a daily basis through mental math. Children practice using the four arithmetical processes and explore the nature of place value. Daily rhythmical counting in circle time (stamping, clapping, tapping, hopping, tossing bean bags) by ones, twos, threes, and so on through ten, reinforce number concepts through the body, and provide the basis for learning the times tables.
Subject Classes
Instruction in French, music, gym, knitting and crocheting, and eurythmy continues to play an important role through the subject teachers.
Main Lesson Subjects
Fables and legends
Lives of the saints
Language Arts: reading, writing and recitation
Arithmetic: math facts and operations
Nature stories and exploration