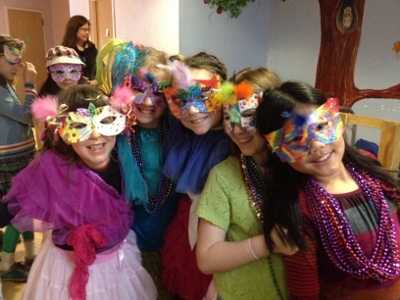 Foreign Languages
Beginning in first grade, the children receive instruction in French—a language embedded in a tradition of arts and culture, and also the most spoken language in Vermont, after English. At LCWS, the French curriculum is influenced by the music, history, and cultural traditions of French speaking countries including our near neighbor, Francophone Quebec.
Through story, song, rhyme, and movement, first, second, and third graders become acquainted with Francophone cultures, including African cultures, as well as the vocabulary and cadences of the language. They experience the games, food and festivals, of these countries. Grammar and reading are introduced in the fourth grade and continue more formally in the middle school. The students present short plays, songs, and poems at school assemblies. In seventh grade, a beloved rite of passage is a week-long class trip to Quebec City, during which students experience the art and architecture of an old European-style city, and have many opportunities to practice their conversational French.
Music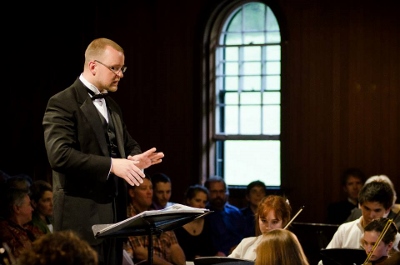 Music is an integral part of the students' experience. Singing and flute playing begin in first grade under the guidance of the Class Teacher. Literally harmonizing together every day builds deep bonds between children, and music becomes a vital part of the social fabric of the class.
Starting in third grade, each student learns to play a stringed instrument and participates in a group lesson. We teach stringed instruments as a part of our core curriculum because we believe that every child deserves the chance to make music and know it "from the inside out." While our goal is for music to be a life-long pleasure, we also know that studies establish a clear link between learning a string instrument and academic achievement, particularly in math. Once they begin playing an instrument, students are expected to have private lessons.
Chorus classes for all students begin in fifth grade, building upon the daily singing students experienced in kindergarten and the earlier grade school years. From fifth grade through high school, students participate in our annual Spring Benefit, which showcases our students' musical abilities and allows them to perform major orchestral and vocal pieces before the entire school community.
There are other regular opportunities for performance at recitals, school assemblies, and seasonal celebrations. Many of our students are members of the Vermont Youth Orchestra ensembles, Vermont Suzuki Violins, and other regional musical organizations.
Handwork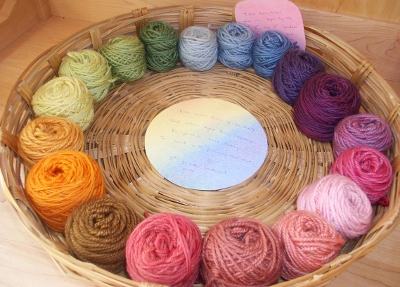 Handwork is taught in all grades at our school because movement of the hands and limbs is essential to the development of the intellect.
Children learn to knit in first grade, creating simple balls, gnomes, and animal forms. In second through fifth grades they learn to crochet, cross-stitch, and knit with four needles. In sixth grade, when their bodies begin to change, all students design and stitch an animal, which can be an outer expression of their inner being. In eighth grade, while the students are studying the Industrial Age, they make a pattern and sew their own pajamas on a sewing machine.
Throughout the grades, projects are of a practical nature: potholders, toys, hats, socks, pillows, and articles of clothing. Students experience the joy of making something they, and others, can use, and many of these projects become gifts.
Mathematical concepts such as parallelism, mirror imaging, progression and geometric forms are implicitly experienced through this tactile learning process. The aesthetic experience of creating beautiful objects also nourishes the child's growing sense of self.
Eurythmy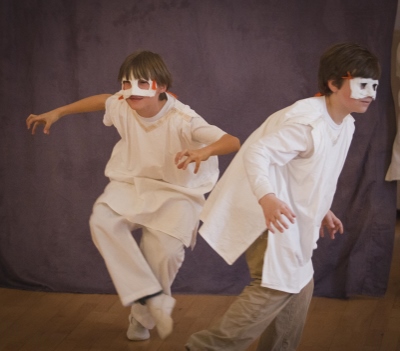 The art of eurythmy is sometimes called "visible speech and music." It consists of a vocabulary of gestures for both the sounds of language and the entire range of musical experience. The eurythmist attempts to make visible through movement the mood, color, direction, and quality of music and speech, which otherwise is only audible.
All students in our school, from kindergarten through high school, practice eurythmy. The movement patterns become more complex and conscious as the students mature. For example, as students study the laws of geometrical forms in their mathematics lessons, they gain a vital experience of them in the eurythmy class—walking and running in squares, circles, lemniscates, pentagons, pentagrams, etc. For the high school students, eurythmy is an artistic experience and culminates in a major artistic performance.
Woodwork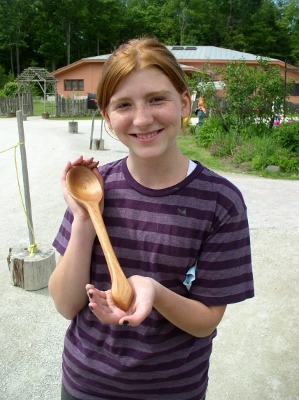 In fifth through eighth grades, students practice the craft of woodworking. They learn to appreciate a medium that has its own character and laws–and to work rhythmically and sensitively with their hands. Creating a sequence of utilitarian objects such as spoons, bowls, and three-legged stools, children come to understand the fundamentals of sculptural form. This training of the hand and eye is truly training the intelligence: by envisioning a product and working with a medium over many weeks to achieve it, students become adept at overcoming obstacles and finding solutions as they move toward a goal.
Every task in woodworking is designed to help the students deepen their understanding and appreciation for the world of form in which they live. The sense of completion and success in this practical work creates balance to the students' academic work and builds a strong sense of competence and self-confidence.
Arts
Drama, painting, music, drawing, modeling, and movement are thoroughly integrated into the academic curriculum, including the science and mathematics courses. Students learn to illustrate complicated logarithmic spirals through precise drawings with a compass. The pyramids of Egypt may be modeled in clay, the mythological characters of ancient Greece depicted in watercolor paintings, and the music of medieval Europe performed on a recorder. Class plays are chosen (or written) according to the themes of the Main Lesson. First graders may act out fairy tales, while eighth graders may perform a Shakespeare comedy. Every student illustrates his or her own Main Lesson books and reports, creating his or her own textbook full of artistic and academic endeavors.
In the Upper Grades Program, arts education is supplemented by master crafts teachers who bring painting, copper work, stone carving, and other arts at a deeper level to meet the young adolescent.