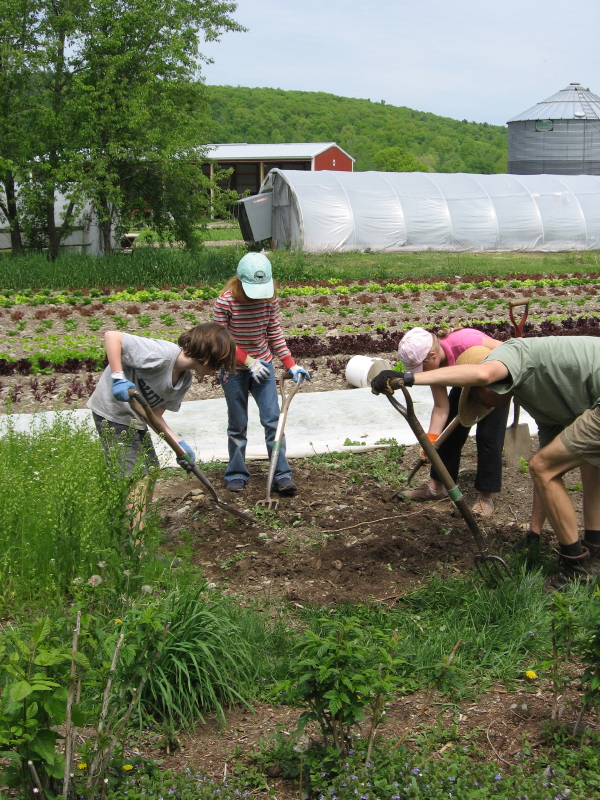 As children turn nine, they begin to see the world differently. No longer are they content to be a part of life without doubts and questions. Before this time, children experience little separation between themselves and their environment. As a new inner life develops, they gradually begin to realize that they are individuals. Parents may notice their children becoming more critical and beginning to question everything.
At school, we wish to encourage and support this growing sense of individuality, while also helping children to find new, stronger relationships to the groups (family, class, school, community) that will hold them for many years to come.
Curriculum
Mythology
The stories of the Torah, or Old Testament, serve as a metaphor for children's inner experience at this age. Adam and Eve had to leave the Garden of Eden, and third grade students have a strong realization that they must one day leave the family home and make their own way in the world. As children explore the Biblical stories of strong authority and rebellion, of breaking from the community and finding one's way back, they find ways to move through the developmental challenges of nine and into a new harmony with themselves and their environment.
Practical Studies
Children of this age have a strong need to experience how to provide for the basic necessities of life–to know how to care for themselves. The Waldorf curriculum responds through a year-long, immersive study of farming, gardening, food preparation, house building, and clothing.
These skills do represent to us a more sustainable, thoughtful, and connected way to live. We teach them at this time because they fulfill a basic need in children of this age to do something, to be competent people, and to know how to take care of themselves.
Children are wholly engaged in topics like shelter-building (in which children, working in groups, build primitive shelters in our woods) and clothing-making (in which they take responsibility for caring for the school's sheep, observe the shearing, and help to wash, card, and dye wool for the school's handwork program). As they experience the balance of working together and working alone, children build a foundation for a life-time of self-reliance—not just physically, but emotionally too.
Science
Children develop an appreciation of the important work of the farmer in nurturing, cultivating, and protecting nature. Science is experienced by working with the soil and then learning about what practices make it good for plants, or caring for sheep and hearing from the shepherd what keeps them healthy and happy. The year also includes a strong focus on nutrition, following the cycle of food from planting and harvesting through cooking and eating together.
Language Arts
In third grade, the fundamentals of grammar are introduced. This subject is another important part of the process of "stepping back" and being able to look at a subject from many angles. Children learn that there are different kinds of words; some words (nouns) tell the names of things, while "doing words" (verbs) describe what happens in a sentence. By beginning to take apart their own language (while studying a second language) children hone new thinking capacities that emerge in third grade.
Regular reading practice becomes part of the class rhythm and many children graduate to chapter books. Spelling skills are systematically practiced through weekly lists. Cursive writing skills, introduced in second grade, are strengthened.
Waldorf schools around the world continue to teach cursive writing in a digital age because we observe that the fluidity and dexterity required by this form of writing supports children's fine motor skills and—most important—flexible, creative thinking. Neuroscientists have confirmed that cursive writing uses both sides of the brain; print, only the left. No wonder that, once they master this important skill, most children write more fluently and creatively in cursive than in print.
Mathematics
Children learn the ways that we have developed to orient ourselves on the earth through the study of measurement. The class discovers that ancient peoples marked the passage of time by observing the cycles of nature. They relive the invention of various devices to measure time, and may make their own sundial or water clock. This process leads naturally to a discussion of how distance was originally measured by time: a day's journey, etc. Modern units measuring distance are shown to have originated in the human body: the king's foot became our foot and the king's thumb width became our inch. Working from their own body outward, children gain a firm and grounded relationship to abstract measurement that will serve them well through future explorations in science and math.
Music
Third grade children are ready to experience the full diatonic scale in music. The pentatonic flute is replaced with the recorder, and children assert their new independence by learning to sing separate parts in rounds. The practice of listening to others (to make sure one is in harmony) while staying true to one's own part is a profound musical and social experience.
At this stage, children also reach the exciting milestone of selecting a string instrument. For this first year the school provides group instruction during the school day so that children experience their instrument in the context of their class, with a familiar teacher (the music instructor who has been singing with them occasionally since first grade). The experience of playing a string instrument is essential to our curriculum, bringing particular connections to math through rhythmic counting and the complex patterns of music.
Subject Classes
Students' work in French continues and includes counting, names of animals, family members, parts of the body, foods, seasons, colors, etc. Basic handwork skills in knitting are expanded to include a more challenging crocheted hat project. Physical movement is further cultivated through gym and eurythmy classes.
Main Lesson Subjects
Old Testament stories
Language Arts: reading, grammar, composition, spelling
Mathematics and measurement
Practical studies in farming, housing, carpentry, and fibers