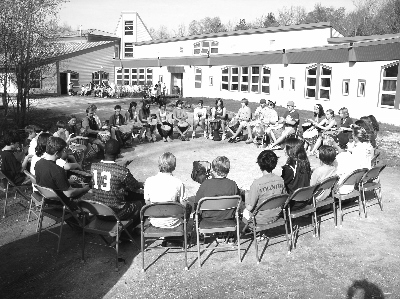 Young adolescents need their learning experience to be authentic, exciting, challenging, and different from their lower school experience. It must lead them towards accomplishing something real, to answer the question, "Why am I learning this?"
Our school has an innovative approach to teaching just for this age group with a rhythm of the day that brings breadth and depth to the learning experience. Along with specialized upper grades faculty, the seventh and eighth grade class teachers work as a team. The students have more personal responsibility to manage their time, and greater freedoms. Academic work is concentrated in the mornings; following lunch, the students engage in artistic and physical education, a schedule that continues in the high school years.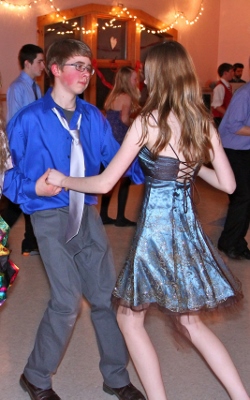 The seventh grade can be tremendously challenging and rewarding for children. They stand on the brink of puberty. Not only are great physical changes taking place, but a major shift in cognitive development is also underway. They are enthusiastic to express themselves and to assert their independence more strongly. Social relationships become a primary focus. Seventh grade students exude a presence of wish, wonder, and surprise. At this stage, they experience their first real creative writing Main Lesson block.
Curriculum
History
Historically, a similar period of change took place in Western civilization around the end of the fifteenth century. The study of the Renaissance, Reformation, and the Age of Exploration thus echoes what children are experiencing within them. The Renaissance not only was an artistic event, but was the beginning of a completely new way of looking at the world. During this time, the principle of learning through observation of phenomena emerged, leading directly to the development of our modern scientific method.
Seventh grade students also learn biographies of great figures who went against the prevailing views of their day in their own search for truth, freedom, and self-expression. Through studying the lives of Galileo, Martin Luther, Christopher Columbus, Elizabeth I, and others, the students find reassurance that in their struggle to become themselves they also can contribute to the world.
Science
In chemistry, seventh grade students discover through observation the properties of various substances and the way in which they interrelate. They examine the phenomena of combustion, the water cycle, and the nature of acids and bases. In physics, they study the laws of refraction, reflection, heat, and electricity.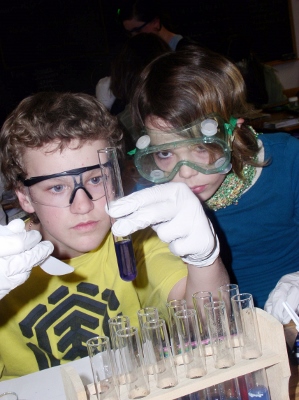 The teacher now talks about the human being in terms of physical science; the class looks at the way in which the digestive tract, respiratory system, and circulatory system of the body cooperate and interrelate. At this age, children are particularly able to look at issues of health and nutrition in an objective way. The class considers those factors that foster health or illness in the human being, including an exploration of how various substances can promote one condition or the other.
Mathematics
In mathematics, the basic concepts of algebra and plane geometry are introduced. Students learn how the Renaissance artists used geometric principles to develop the laws of perspective, and then practice the application of these laws in their own drawings. Other studies involve business math, graphing, algebra, perimeters, areas, roots, powers, and formulas.
Subject Classes
In both seventh and eighth grade, the afternoons are devoted to orchestra, physical education, and an intensive practical arts curriculum of stone carving, metal work, fiber arts, and woodworking. In the artisan program, students learn the "intelligence" of a tool. When students are engaged in manual activity, practical intelligence is acquired through their hands and their perception of their world is enlivened throughout their senses. Their experience is satisfying and tangible.
Their work in foreign languages has now expanded to include reading and conversation, as well as grammar and structural drills. Students are also exposed to classical languages through Greek and Latin myths, poetry, quotations, and word study. Team games and sports continue in seventh grade, as does the study of eurythmy.
Main Lesson Subjects
Study of the Renaissance, Reformation, and Age of Discovery
Language Arts: reading, grammar, composition, and poetry
Mathematics: algebra and geometry
Drama
Perspective drawing
European and African geography
Physiology
Health and nutrition
Physics and inorganic chemistry