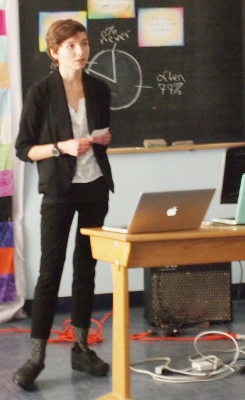 At the Lake Champlain Waldorf School, we teach math to build the traditional skills of algebra, geometry and calculus. After all, we want you to have the keys that will let you go anywhere in the worlds of math and science. But we have something more in mind, too. We think everyone can glimpse the beauty and rigor of higher mathematics, and be a better person and thinker for it.
High school math at LCWS is taught in the block system and in ongoing daily track classes. This combination allows you to dive into new math concepts and stay with them for a while, exploring all the implications of an idea. You will learn about math applications, play with math, and get to know the personalities behind the great discoveries. At the same time, in your track classes, you get daily practice and skill-building that lets you move ahead with confidence through algebra, geometry, advanced algebra, pre‐calculus, and calculus.
Algebra I
Track Class
This course begins with a thorough review of basic arithmetic, including decimals, fractions and use of formulas. Students study simple linear equations, work with two linear equations, and use equations to solve word problems (integer, simple area, and perimeter, age, and money problems). Polynomials include a thorough review of the laws of exponents, operations with monomials, recognizing like terms and adding, subtracting and multiplying polynomials, and factoring. Students review ratios, proportions, irrational numbers, and simplifying square roots. Towards the end of the year, students study negative and fractional exponents, functions, the slope of a line, and the basic trigonometric definitions. We also derive the quadratic formula.
Algebra II
Track Class
This skills course begins with a review of linear equations, including solving, graphing, and finding the slope of a line. Students review solving quadratic equations several different ways: factoring, completing the square, and using the quadratic formula. Students study the conic sections: parabolas, circles, hyperbolas, and ellipses. They also study functions and graph many rational functions. We review solving systems of equations and use this to solve word problems, such as area and projectile problems, different types of numbers, logarithms, and growth problems, and then study the number e and imaginary numbers, the trigonometric functions, and statistics, which includes calculating standard deviation and statistical probability.
Permutations and Combinations
9th Grade Main Lesson
Students learn how to calculate the number of permutations and combinations, such as finding the odds of winning the lottery, the chances of winning with a certain hand in card games, and the odds against a sports team that has already lost two games in a series, and apply this to various word problems. This leads to a study of Pascal's Triangle, Pascal's biography and other contributions to mathematics, and the history of probability theory.
Geometry
9th Grade Main Lesson
Students build on their work with platonic solids by drawing two dimensional plane projections of them, utilizing the graphic science of "descriptive geometry." Plates are developed that show several 2-D projections of the 3-D shapes. Distances and visibility of lines and points are determined from the plates. This graphic science develops the students' visualization skills, analytic thinking, and precision with drafting.
Trigonometry
10th Grade Main Lesson
Trigonometry comes from Greek and means triangle measurement. That is the way this branch of mathematics began and that is what we will be studying in this course, although Trigonometry grew far beyond its roots and is used in many interesting and important ways in science, mathematics, and engineering. These applications are called Analytical Trigonometry and are studied in more advanced math courses.
Surveying
10th Grade Main Lesson
Surveying is defined as the collection of data relating to the recording of surface and near surface features of the earth and generally their representation as a map, plan or digital model of the those features. In this block we will explore a brief history of surveying, the effects of technology on the field, concepts in trigonometry, working in horizontal and vertical planes, a good deal of fieldwork and also a good deal of time in the laboratory doing calculations. This block will also include a good deal of group work. You will work with a group for the entire block on your fieldwork and calculations. How well you work within your group will determine how much material we cover and a good portion of your grade.
Projective Geometry
11th Grade Main Lesson Block
We begin with points, lines, and planes familiar to us from Euclidean geometry. We treat each of these elements as equally primitive. We remove the idea of measurement. What is left of a line when you remove a quantity of length? We use drawings to guide our imagination. We strive to imagine these elements and their relationships as wholes rather than as measured parts. What begins to emerge is an exact mathematics of qualities. We notice that the web of inter-relationships holds no matter how much we wiggle things. We discover that the Euclidean idea of infinity transforms into something much different in projective space. We discover that projective space is full of unexpected forms similar to forms we find in the natural world. We discover a totally consistent symmetry without the exceptions needed in Euclidean space. What kind of a science could this mathematics reveal?
Calculus
12th Grade Main Lesson
This class will explore the applications of calculus to various practical engineering, biological, economic, and geometric problems. The course is intended to prepare a student for the possibility of entering a math-intensive college track such as engineering, pre-medicine, physics, or mathematics.
Senior Mathematics
12th Grade Main Lesson
In this skills course, we begin with reviewing trigonometry and graphing functions. Other units throughout the year include computer programming, pre-calculus topics, and solving interest rate and growth problems.