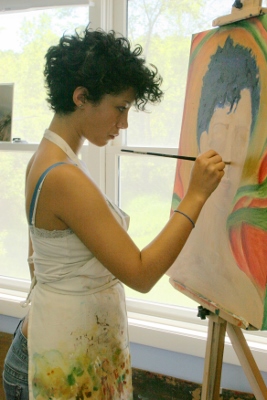 A distinctive element of the Waldorf curriculum is a series of four main lessons over the course of a student's high school career, each one highlighting the history of art and culture over time. These lessons exemplify our unique, interdisciplinary approach: although art is our lens, our subject is the development of human consciousness and thinking.
As students dive into cultural studies they draw on disciplines as wide ranging as philosophy, mathematics, anthropology, social and political history, psychology and religious studies. Through these lessons, students come to know the world a little better—and through the world, themselves.
History of Art
9th Grade Main Lesson
This survey of art from prehistoric through early modern times demonstrates how art is a reflection of people, culture, and politics. From the idealized and stylized forms of Egyptian art, to the dramatic struggle between darkness and light in Renaissance paintings, this class follows the evolution of the idea of the individual in human consciousness—all contained in the way humans have painted their way through history.
Poetry
10th Grade Main Lesson
This main lesson explores a variety of poetic forms, and students have the opportunity to experience poetry as a poet, a reader, and a teacher. Students work with form and content, and write everything from haikus to sonnets and sestinas. Each student creates a personal poetry anthology that is hand-written and bound into a booklet. The power of poetry to express the depths of human emotion and the joys of human experience becomes apparent.
History through Architecture
12th Grade Main Lesson
This class surveys western architecture, examining its technologies and ideologies. From the ancient civilizations of Mesopotamia and Egypt through modern architecture in the 20th and 21st centuries, students study how each style develops from the preceding one and reflects the culture of its time. The course culiminates in a personal design project: each student plans and builds a model of a retreat appropriate for a chosen type of work.
History of Music
11th Grade Main Lesson
This course is an experiential tour through the history of Western art music, helping students to become aware of compositions that marked major turning points in the evolution of music, and also to find their own personal connection to various musical forms. A focus is on building a musical vocabulary and listening repertoire as students try to hear music as people of different epochs would have heard it—and simultaneously be aware of the context in which we hear art music, here and now. Students attend live music performance and experience different styles from within by singing daily as part of this course.
Applied and Visual Arts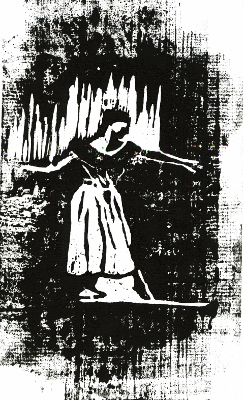 Visual and applied arts classes are offered 90 minutes twice weekly for blocks of six or eight weeks. They are designed to gradually build artistic skills and capacities. The goal for the arts classes closely reflects a theme in our academic curriculum: we want students to learn to see an object or situation from many perspectives, then to form and express their own unique vision.
Whenever possible, classes visit area museums to view visiting exhibitions of great art and learn about them in the context of the culture in which they were produced. Some electives are based in part on working with and from these masterpieces. Recent examples of fine arts trips include visiting the Shelburne Museum to see an exhibition of Georgia O'Keefe's work, and visiting the Middlebury Art Museum to work with Japanese brush painting.
Fine Arts Core Classes
Black and White Drawing: 9th grade
Students explore the expressive qualities of black and white drawing in the visual arts. They expand their capacities of visual perception and creativity and continue the development of drawing skills, working with mass, contour, gesture and shading. They strive to create strong compositions that balance light and shadow with an eye toward balance of proportion, mass and volume. Working with pencils, crayon, charcoal, eraser, ink and wash, students practice drawing techniques culminating in an extended still-life study.
Water Color Painting: 10th grade
In this course students return to a form they thought they knew—watercolor—and experience it in an entirely new way. Students learn how to build up and control watercolor through the use of layers, or veils. Projects include a color wheel, and a final major study: an interpretation of an Impressionist masterpiece rendered in watercolor.
Acrylic Painting: 11th grade
In this continuation of the painting curriculum, students are introduced to acrylic paints, and work especially with their qualities of transparency and opacity. Years of working with color and light allow students to grasp the potential of this new medium. The final project is a self-designed work, and a focus of the class is discussion and critique in a workshop environment. We practice offering thoughts about our own and others' work with compassion and objectivity.
Self-Portraits in Oil: 12th grade
This culminating class in the fine arts curriculum involves working from life using a mirror to create an oil self-portrait, utilizing the work of various of artists to influence and inform the piece. This is a major work of art that develops from a series of sketches to finished oil painting over 12 or more weeks, and is presented in each student's graduation display as a representation of his or her work at our high school.
Examples of Recent Fine Arts Electives
Focusing on the Landscape:
During this Fine Arts Advanced Studio Elective students focus on using the autumnal landscape of Vermont as inspiration, including farms, gardens and local food. Students work with a variety of drawing, painting and collage materials to develop their pieces. They create a plan for their final project with the help of the instructor and choose from materials and approaches discussed in class.
Two-dimensional Design
After studying the work of Louis Tiffany at the Shelburne Museum, students draw images from the natural world and manipulate them to achieve in different media effects similar to the ones achieved by Tiffany. A focus of this class is to develop an understanding of the principles of two-dimensional design.
Block Printing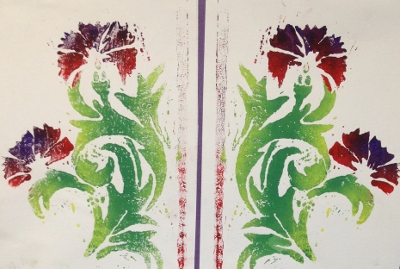 Students design and create their own woodcut designs, using principles of pattern, repetition, and composition to create a portfolio of work.
Figure Drawing
Students explore many approaches to the human figure, using gesture studies, contour studies, modeled drawings and portrait exercises to create more involved drawings.
Sumi-e Painting and Japanese Poetry
This class, jointly taught by a humanities and art teacher, combines the study of Japanese poetry with the study of Japanese ink painting, or Sumi-e. Students work with inks and washes to create their own designs in the style of the Japanese form.
Moving Toward Abstraction
Students study the Abstract Art movement and explore in their own artwork what it means to break away from traditional representation of physical objects.
Applied Arts Core Classes
In a time when some see handcrafts as an obsolete form, it may be surprising that Waldorf schools continue to devote significant time to the ancient practical arts of stone carving, woodworking, and blacksmithing.
And yet, the teachers at the Lake Champlain Waldorf School feel this is one of the most forward-thinking parts of our curriculum: now more than ever, students need to be comfortable in their bodies, confident that they can create with their hands, and grounded in the present moment. Only when hand, mind and heart can work together harmoniously will we be able to create real solutions to the problems that face us. Read an in-depth explanation by a craftsman of why Waldorf schools teach blacksmithing.
Blacksmithing: 9th grade
In this course students learn the basics of forging, craft a metal coat hook, then design and complete a simple metal project of their choosing. The need of the ninth grader to test limits and know his or her own strength is deeply met in working with this elemental craft.
Spinning: 9th grade
Students explore all aspects of turning raw fleece into yarn: they wash, card and spin fleece into yarn using various spindles and spinning wheels, and plant-dye their hand-spun yarn. The ninth grader's need for practicality is met when students knit mittens for their upcoming winter camping trip and make waterproof mitten covers for them.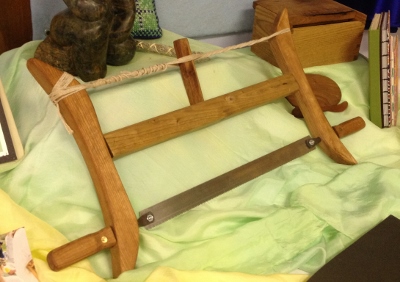 Woodwork: 9th and 10th grade
This woodworking course offers students continued practice in shaping wood while introducing new concepts in how separate components are joined together. The course focuses on the fabrication of a single project, a three-legged painter's easel with lap joint construction. A focus of the course is developing a deeper understanding of functional objects, and the relationship between three-dimensional shapes.
Basketry: 9th grade
Starting out with an observation exercise, students analyze how baskets are constructed, then begin creating small baskets using traditional weaving skills such as twining. Students consider the question: "What is a vessel?" and work with a variety of materials. The historical and cultural richness of basketry around the world is examined, and students complete at least one well-conceived piece.
Sculpture: 10th grade
In this block students explore the general concepts of additive vs. reductive sculpture, three-dimensional vs. two-dimensional design, direct and indirect carving methods, hand tools and power tools and the use of positive and negative space in design.
Each student chooses a human figure in gesture to sculpt and then fashions a maquette out of clay to represent his or her concept of the sculpture. Students then choose a piece of stone to fit their design.
Puppetry: 10th grade
In this block our purpose is to not only make a marionette puppet, but to learn how to move the puppet and stage a puppet play, creating a synthesis between dramatic character and textile creation. Students create puppets by "sculpting" the head using wool and needle-felting, then sewing the clothing and attaching the body and hands. The puppets are strung and the students add the finishing touches for their characters.
After the puppets are finished, students spend time learning to move them and rehearse and present a short fairy tale play for a performance at the Waldorf grade school and another venue (a local school or library).
Stone Carving: 10th grade
In this more advanced carving class students explore stone sculpture as a relationship between artist and the medium. Students will try to determine, through a practical and imaginative process, the potential within an individual stone, and try to bring this to potential using a variety of techniques. Each student will complete a stone sculpture of his or her own design.
Bookmaking: 11th grade
The evolution of the book parallels the development of human thought. Students are introduced to the materials, tools and techniques of bookmaking; the precise skills and logic of the process are especially suited to the eleventh grader's developed thinking and manual dexterity. Book forms include sewn pamphlets, hinged albums, and a formally bound book. In their final project students are encouraged to explore other historical, cultural, or inventive book structures and boxes.
Woodwork: 11th and 12th grade
In this block students learn to work with power tools to design and complete two major projects of their choosing.
Clothing Design: 12th grade
In this block students explore the design of clothing from both a practical and a fashion perspective, and bring their knowledge and personal expression together to design and create an article of clothing. Skills taught include drafting a pattern from an article of clothing, altering the pattern, calculating the fabric needed, planning out the procedure for sewing and sewing the article of clothing.