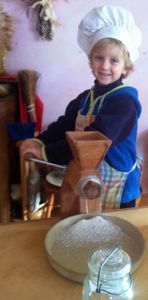 The Nourishing Foods Initiative is a blossoming of parent and faculty interest in bringing greater awareness and nutrition consciousness to children's experience of food at the Lake Champlain Waldorf School. From food served in the parent-child classes to the hot lunch program at the high school, children at every stage of learning have many opportunities to connect with food at school and to cultivate a rich experience of food as living, organic sustenance that feeds us on many levels.
The goal of the Nourishing Foods Initiative is to bring whole foods nutrition and food education to our school and wider community in a manner that is warm, accepting of everyone's food background and ideas, and in line with our school's Anthroposophical mission. Activities include parent education on nutrition, food and gardening; support for growing a healthy weekly hot lunch option in the Grade School; organic, allergy-sensitive food offerings at school events and festivals; and programming in and outside of the classroom on food and growing as opportunities allow.
Healthy food is a vital part of our school mission. Food growing and food preparation overlap with Waldorf pedagogy, and this initiative helps to bring more focus and direction to our school's work with nutrition. It has generated enormous interest inside and outside our school, and is helping to make our school a center of food education in our area. Since 2012, the Initiative has been funded through the generous support of the Forrest and Frances Lattner Foundation.
Examples of projects realized through the help of the Nourishing Foods Initiative include:
• Parent and community education speaker series, with kick-off by biodynamic farmer and educator Doug Flack
• Guided all-school potluck at Michaelmas, hands-on food activities for children, and parent-made pumpkin soup for each of the Grade School classrooms
• Back-to-school workshop on packing healthy lunches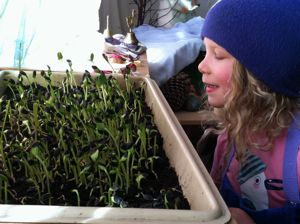 • Organic food offerings for the Holiday Fair Café
• Parent-made maple popcorn for Forest of Magic and Mystery, apple cinnamon muffins for the 1st-3rd grade Martinmas celebration, and coconut macaroons for the Grade School St. Lucia Day celebration
If you are interested in learning more about the Nourishing Foods Initiative and finding out about ways to become involved, please contact Kindergarten Teacher, JoAnne Dennee.
For a list of recipes featured at the school as part of the Nourishing Foods Initiative, please see our Recipe Page.