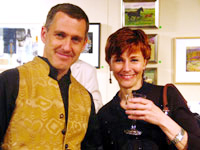 Another way our community provides support for the school is through sponsorship of the Holiday Fair and Spring Benefit, either personally, through their employers, or through their own businesses. There are several levels of sponsorship to allow for a wide range of families and businesses to participate in this way. Sponsors are acknowledged in event programs and publicity. In addition, some parents and businesses purchase advertisements in the event programs.
To find out how to become an Event Sponsor, or to purchase an advertisement in our beautiful Holiday Fair and Spring Benefit programs, please email Lindsay Francescutti in our Development Office or call her at (802) 985-2827 ext. 14.
Download our Event Sponsorship & Advertising brochure (PENDING)
To sign up as a Sponsor, or Advertiser, fill in the form below.