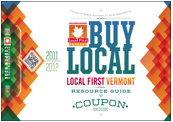 This fall, the school is selling Buy Local coupon books, featuring over $2,300 worth of coupons for tons of great local businesses in Chittenden, Lamoile, Washington and Addison counties. Most coupons good until 9/13!These books make great gifts…and 50% of the purchase price goes back to the school.

Greenery is on sale now, with lots of other wonderful items to come in the next few weeks. Order holiday greenery now.
The deadline for wreaths and other greenery is Monday, November 5th.
Check back soon for additional products.