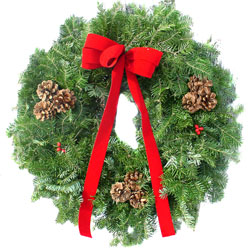 This year, we are once again offering an assortment of beautiful balsam wreaths and greens from Vermont's Northeast Kingdom. All of the greenery options are handmade and created with freshly-cut Vermont balsam.
Decorated 20-22″ Balsam Wreath
Fragrant Vermont balsam, double-sided and decorated with pine cones, red holly berries and a red velvet bow.
$27.00/pick up or $42.00/shipped
Decorated 12″ Balsam Mini Wreath
All of the festivity of the 22″ wreath, perfect for a side door!
$16.00/pick up or $28.00/shipped
Undecorated 20-22" Balsam Wreath
Lush greens, simple and beautiful.
$20.00/pick up or $35.00/shipped
30" Mixed Greens Swag
Swag made of balsam, pine and arborvitae, with a red velvet bow to adorn mantels and other areas of your home.
$25.00/pick up, no shipping available
Shipping
Wreaths and greenery will be shipped on Tuesday November 26th. Please be sure to enter the correct mailing address and name of the recipient. Enter shipping address at the "Review Payment" screen. (Remember, no PO Boxes!) Please note: online orders that need to be shipped to different addresses will need to be placed as separate cart orders.
Picking Up
Items to be picked up will be distributed on the Shelburne campus, beginning November 26. If you need to make special arrangements for pick-up at the Charlotte campus, please contact the Development Office.