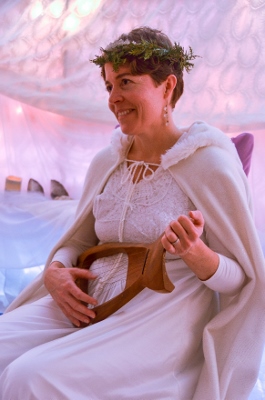 On the first weekend in December, the school is transformed for a European-style fair, complete with craft-making activities for children, live music performances, a café serving hearty and delicious food, games and activities for older children and adults, and local craft vendors.
Admission is free, and activities cost $1 to $5. The school is located at 359 Turtle Lane, Shelburne, VT. To get there, turn west off of Rt. 7 at Harbor Road light, right on Turtle Lane. For further information, contact Lisa Espenshade at (802) 985-2827 x214.
ARTISAN MARKET
FRIDAY, DECEMBER 2 | 6:30–9:00 pm
Come mingle and enjoy a wonderful shopping experience.
Our beautiful grade school is transformed into a holiday market filled with hand crafted items from some of the best local artisans (listed below). Look for the Nova Naturals pop-up store and the talented student vendors. The grill will be fired up, serving hamburgers, veggie burgers, hot dogs, and dessert. Enjoy the No-Fret Quartet performing seasonal favorites. Friday evening is for adults and older teens. See the full list of vendors below.
FAMILY FAIR & MARKET
SATURDAY, DECEMBER 3 |10:00 am–3:00 pm
Bring your whole family, and come early… you'll want to stay all day!
The Artisan Market continues and the Family Fair begins! Children delight in so many activities and games: candle dipping, crafts, music and performances, the musical cake game, 'shopping' in the Angel Room (no adults allowed), and the Crystal Cave of the Snow King and Queen.
African Drumming | Community Room
The fair closes with a drumming circle Mashobane Moruthane from 2:30 to 3:00 pm. free
Angel Room | Enter through 2nd grade classroom
The Angel Room is a magical place for children to pick out handmade gifts for their family and friends. Older students in grades six and above are invited to come after 2:00 pm. "Angel Room Tokens" have specific time slots to ease the wait times, so come to the 2nd grade classroom (where children can also enjoy face painting and card making) at the time on the card. Angel Room tokens are $2, and children can use 3 tokens per visit.
Artisan Raffle | Hallway
Vendors have generously donated items for the school's raffle. Tickets are $1. Drawing at 2:15 pm.
Café & Grill | Hallway & Community Room
Many thanks to the 8th and 12th grade families for cooking up fantastic food! Enjoy lasagna, salads, pasta, chili, bagels, bread and rolls, desserts, and more. The grill will be serving up hamburgers, hot dogs, chicken and tofu skewers, and coleslaw.
Candle Dipping | 3rd grade classroom
New this year! Children will be enchanted as they watch their candles form before their eyes. 3 tickets
Jump Rope Making | 7th grade classroom
Make your own jump rope out of colorful yarn, using a traditional rope making machine. 5 tickets
Crystal Cave of the Snow Queen and King | Kindergarten
Visit the enchanted Crystal Cave to meet the Snow Queen or King who will tell a tale and present a treasure. 1 ticket
Face Painting & Card Making | 2nd grade classroom
Beautiful, simple face painting designs for all ages. 1 to 4 tickets
Color a beautiful card. FREE
Musical Cake Game | 6th grade classroom
A Fair favorite! The winner gets to choose a fancy cake; play 3 times and you get a giant cupcake. All players get a cookie. 3 tickets
Play Performance | Kindergarten
At 11:00 and 1:30 the Early Childhood teachers will perform a funny and sweet seasonal play. 20 minutes. 1 ticket/person
Pocket Lady or Gent
Wandering throughout the Fair, with pockets full of tiny treats. 1 ticket
STUDENT VENDORS, Friday evening
Hazel Civilier: Baked goods
Michaela Buscher: Baked goods
Oona Gourlay & Mia Guidry: Cards, lanterns and nuts
Hunter Higgins: Carved animals and sweets
Nick Coughlan and Leyi Zhang: Chinese crafts, French dessert, paper folding, Chinese food, book marks, and Chinese writing.
Griffin Donovan: Cookies baked goods, and crafts
Mina Pricer-Coan, Caroline Krahl, Lilly Reed, Iris Lawson-Ryan, and Lila Taylor: Cupcakes
Jack Mahar: Hot Chocolate
Janet Kilburn: Pendant necklaces, bangle bracelets, bead jewelry
Markos Lissarrague, Julian Slesar and Ryan Fontanez: Salted caramels
ARTISAN VENDORS
12th Grade Class, Waldorf calendars, tshirts, and more
7th Grade Class, Cards
Bali Boutique, Jewelry
Barefoot Books, Children's books
Bee Happy Vermont, Beeswax candles and honey
Bella Bueno Jewelry, Silver Jewelry
CB Sacks, Recycled totes and sacks
Cherie Marshall Glass, Fused glass jewelry
Clear Light Art, Pottery
Craftsbury Candleworks, Beeswax candles
Danish Woolen Delight, Wool products
Dawn until Dusk, Fiber arts
Dolma Fair Trade, Fair trade linens
Dr. Hauschka, Skin care products
Edwards Smith Fine Woodworking, Wood designs
Eenadee, Jewelry
Elizabeth Dealing, Handmade advent calendars
Farmhouse Chocolates, Chocolate truffles and caramels
Fire and Stone Design, Stone oil candles
Ginny Joyner Studio, Watercolor prints and cards
Glassart by Gabrielle, Fused glass bowls
Hampton Fiber Mill, Yarn and knitting kits
Hands & Heart Farm, Wool products
Heartbeet Lifesharing, Felted wall art
Heartfire Henna, Henna and Henna kits
Herbs & Arrows, Herbal tinctures
Holzkopf, Wood turnings
Hutch & Ricka, Leather and wooden toys
Jamie Harmon, Wool products
Karen's Artisan Popcorn, Popcorn
Katie Struhammer, Painted glassware
Keep In Touch Cards, Greeting cards
Mashobane Moruthane, Items from Africa
Nova Naturals Toys & Crafts, Wooden toys
Off the Beaden Path, Jewelry
Palmer Woodworks, Wooden cutting boards and bowls
Patrick Kennedy, Ceramics and book ends
Petits Cadeaux, Felted toys
Poupées et marionnetes Waldorf, Waldorf puppets and dolls
Qewar Social Project, Peruvian dolls and crafts
Roo's Woolery, Wool products
Saratoga Olive Oil, Fine oils, vinegars, and spice blends
Shelburne Point Apiary, Honey and skin care products
Sweet Little Bouquet, Handmade childrens clothing and toys
Terrispirit, Art and cards
V Smiley Preserves, Preserves
Viking Roots, and Pennie Rand Photography, Holiday crafts
Windsong Pottery, Pottery
Woodcrest Carpentry, Handmade toys and frames
We are no longer accepting applications for vendors, but if you are interested in applying for next year please email Lindsay at lindsayf@lakechamplainwaldorfschool.org.
Thank you to all our parents and faculty who make this event possible!
Our Holiday Fair is sponsored by: