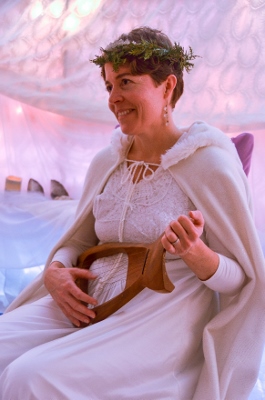 On the first Saturday of December, the school is transformed for a European-style fair, complete with craft-making activities for children, live music performances, a café serving hearty and delicious food, games and activities for older children and adults, and local craft vendors. The parents of each class take responsibility for one aspect of the fair (decorations, craft room, parking, etc.), making the fair truly a whole-community event.
The 31st Annual Holiday Fair, December 4 & 5
Join us for one of the most beloved holiday events in the Champlain Valley. Our two-day Holiday Fair begins Friday, December 4 from 6:30 – 9:00pm. Adults and teens are invited to shop at our Artisan Market, featuring over 60 local and fair trade vendors. Indulge in delicious sweet and savory crêpes at the crêperie, run by our high school students, and enjoy the warm and inviting atmosphere of pine scented hallways and live music.
Then Saturday, December 5 from 10:00am to 3:00pm, bring your family early because you will want to stay the whole day. Children's activities include jump rope making, storytelling, the famous cake game, children's craft making, magical activities like the "Crystal Cave of the Snow Queen," African drumming, face painting, a play for young children, and a photo dress-up booth. Children can "shop" in a special room (no adults allowed) filled with precious handmade treasures like hand-sewn wands, birch candles, hand-carved gnomes, and folded star lanters.
The artisan market continues on Saturday with its wide array of offerings in a range of price points: beeswax candles, natural fiber crafts handmade with wool or felt, jewelry, scarves, fair trade block-printed table linens, and many gifts for children including handmade wooden toys, gnomes, fairy costumes, doll clothes, and handmade Waldorf dolls. There is live music, and delicious, cafe food made with local and organic ingredients.
Admission is free, and activities cost $1 to $5. The school is located at 359 Turtle Lane, Shelburne, VT. To get there, turn west off of Rt. 7 at Harbor Road light, right on Turtle Lane. For further information, contact Lisa Espenshade at (802) 985-2827 ext. 14.
Volunteer Sign Up
Kindergarten through 7th Grade Sign Up
9th, 10th and 11th Grade Student and Parent Sign Up
8th and 12th Grade Café Sign Up
Holiday Fair Vendors
Ariels Honey Infusions, Honey infusions
Bali Boutique, Jewelry
Barefoot Books, Children's books
Bee Happy Vermont, Candles & honey
Bella Bueno Jewelry, Silver jewelry
Berchta's Belly, Upcycled clothing
CB Sacks, Recycled totes & sacks
Clear Light Art, Pottery
Craftsbury Candleworks, Beeswax candles
Dak Bar, Whole food energy bars
Danish Woolen Delight, Wool products
Dr. Hauschka products
Duke & Earls, Candles
Edwards Smith Fine Woodworking, Wood designs
eenadee, Jewelry
Farmhouse Chocolates + Ice Cream, Organic fair-trade chocolate
Ginny Joyner Studio, Watercolor prints & cards
Glassart by Gabriele, Glass items
Hampton Fiber Mill & Spinnery, Yarn, roving, batts
Hands & Heart Farm, Wool products
Heartbeet Lifesharing, Felted wall art
Heartfire Henna, Henna
Holzkopf, Wood designs
Hutch-N-Ricka, Leather and wooden toys
Jamie Rainbow Yarn, Wool products
June Albright, Plant dyed silks and wool felt
Keep In Touch Cards, Handmade cards
Lakeside School, Critter Ornaments
Off the Beaden Path, Jewelry and wood boards
Palmer Woodworks, Wood designs
Petites Cadeaux, Felted toys
Poupées Waldorf, Waldorf puppets & dolls
Qewar Social Project, Peruvian dolls & crafts
Roo's Woolery, Wool products
Saratoga Olive Oil, Fine olive oils & vinegars
Sweet Little Bouquet, Children's clothing
Sweet Retreat, Soap
The Felted Gnome Knows, Wool products
Tom's Salted Caramels, Salted caramels
Trillium Finch, Jewelry & seasonal wreaths
White Dove Sanctuary, Handwoven baskets
Windsong Pottery, Pottery
If you would like to apply to be a vendor for 2015, please complete the Vendor Application