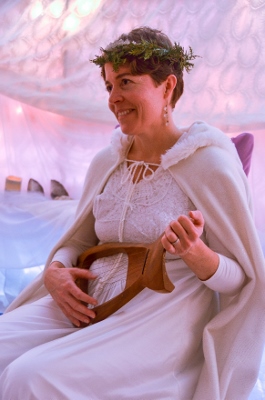 On the first weekend in December, the school is transformed for our European-style fair, complete with craft-making activities for children, live music performances, a café serving hearty and delicious food, games and activities for older children and adults, and local craft vendors.
Admission is free, and activities cost $1 to $3. The school is located at 359 Turtle Lane, Shelburne, VT. To get there, turn west off of Rt. 7 at Harbor Road light, right on Turtle Lane. For further information, contact Lisa Espenshade at (802) 985-2827 x216.
ARTISAN MARKET
FRIDAY, DECEMBER 1 | 6:30–9:00 pm
Come mingle and enjoy a wonderful shopping experience.
Our beautiful grade school is transformed into a holiday market filled with hand crafted items from some of the best local artisans. The grill will be fired up, serving hamburgers, veggie burgers, hot dogs, and dessert. Enjoy the No-Fret Quartet performing seasonal favorites. Friday evening is for adults and older teens.
FAMILY FAIR & MARKET
SATURDAY, DECEMBER 2 |10:00 am–3:00 pm
Bring your whole family, and come early… you'll want to stay all day!
The Artisan Market continues and the Family Fair begins! Children delight in so many activities and games: candle dipping, crafts, music and performances, the roshambo cake game, 'shopping' in the Angel Room (no adults allowed), and the Crystal Cave of the Snow King and Queen.
Angel Room | Enter through 2nd grade classroom
The Angel Room is a magical place for children to pick out handmade gifts for their family and friends. Older students in grades six and above are invited to come after 2:00 pm. "Angel Room Tokens" have specific time slots to ease the wait times, so come to the 2nd grade classroom (where children can also enjoy face painting and card making) at the time on the card. Angel Room tokens are $2, and children can use 3 tokens per visit.
Artisan Raffle | Hallway
Vendors have generously donated items for the school's raffle. Tickets are $1. Drawing at 2:15 pm.
Café & Grill | Hallway & Community Room
Many thanks to the 8th and 12th grade families for cooking up fantastic food! Enjoy lasagna, salads, pasta, chili, bagels, bread and rolls, desserts, and more. The grill will be serving up hamburgers, hot dogs, chicken and tofu skewers, and coleslaw.
Candle Dipping | 3rd grade classroom
New this year! Children will be enchanted as they watch their candles form before their eyes. 3 tickets
Caroling Sing-a-long | Community Room
We will end the Fair singing! Come to the Community Room at 2:30. We'll have caroling books for you to keep and led by members of the Community Chorus. (Note: no drumming this year; Mashobane Moruthane has an injured hand.)
Ornament Making | 4th grade classroom
Create a beautiful star ornament using colorful wire and beads. 2 tickets
Harmonograph | 4th grade classroom
Create an amazing geometric picture with this apparatus that uses pendulums…like "spirograph" on steroids. (2 tickets)
"Woolly Sheep and Red Cardinal" | Throughout the Fair
The Woolly Sheep and the Red Cardinal have been busy getting ready for the Holiday Fair, so busy that these two friends haven't seen each other in a while! If you spot them at the Fair, could you offer your help? (free)
Crystal Cave of the Snow Queen and King | Kindergarten
Visit the enchanted Crystal Cave to meet the Snow Queen or King who will tell a tale and present a treasure. 1 ticket
Roshambo Cake Game | 8th grade classroom
Choose wisely, as teams play this ancient Chinese game. Everyone who plays gets a cookie, the winner gets a fancy cake. Play three times without winning & a giant cup cake is yours. (3 tickets)
Play Performance | Kindergarten
At 11:00 and 1:30 the Early Childhood teachers will perform a funny and sweet seasonal play. 20 minutes. 1 ticket/person
Pocket Lady or Gent
Wandering throughout the Fair, with pockets full of tiny treats. 1 ticket
ARTISAN VENDORS
Alyson Chase Home, Textiles
American Game Table, Six-sided wooden game table
Anne Curtis, Knitted accessories, soft garlands and toys
Bali Boutique, Jewelry
Bee Happy Vermont, Beeswax candles and honey
Bijoux Gervais, Jewelry
Bluebird Fairies, Light-hearted fairy oracle deck and cards
Cherie Marshall Glass, Fused glass jewelry
Craftsbury Candleworks, Beeswax candles
Dak Bar, Whole food energy bar
Danish Woolen Delight, Wool products
Dr. Hauschka, Skin care products
DUKE & EARLS, Coconut wax candles, textiles and potted succulents
Edwards Smith Fine Woodworking, Wood designs
Eenadee, Jewelry
Fire and Stone Designs, Hand-chiseled candles made of stone
Glassart by Gabrielle, Fused glass bowls
Hands & Heart Farm, Wool products
Heartbeet Lifesharing, Felted wall art
Holzkopf, Wood turnings (Friday night only)
Hutch & Ricka, Leather and wooden toys
Iona Skye Dolls, Waldorf dolls
Jamie Harmon, Wool products
Jewels by Pen, Jewelry
Knit802, Knitted accessories
Laura Baum, Ceramics
LVL VT Pottery, Ceramics
Meadow Lane Macrame, Boho-chic macrame and jewelry
Menard's Tree Farm, Holiday wreaths (Friday night only)
Muddy Toes Terrariums, Terrariums
Off the Beaden Path, Jewelry
Parent Handwork, Waldorf figures and ornaments
Patrick Kennedy, Ceramics and book ends
Plant Spirit Fibers, Wearable Fiber Art
Poupées et marionnetes Waldorf, Waldorf puppets and dolls
Qewar Social Project, Peruvian dolls and crafts
Red Barn Baskets, Hand-woven baskets
Runamok Maple, Infused maple syrups (Friday night only)
Scissor Guild, Handmade urban gear and accessories
Sempirra, Local skincare products
Shelburne Craft School, Jewelry, ceramics and wooden ware
Soap Kettle Creations, Handmade soaps (Friday night only)
Sweet Little Boutique, Handmade garments and accessories
Tide and Time Creations, Jewelry
Windsong Pottery, Ceramics
Vermont Knitting Company, Knitted and crocheted accessories
Interested in applying to be a vendor next year?
Contact Juliana at jtaylor@lakechamplainwaldorfschool.org.
Thank you to all our parents and faculty who make this event possible!