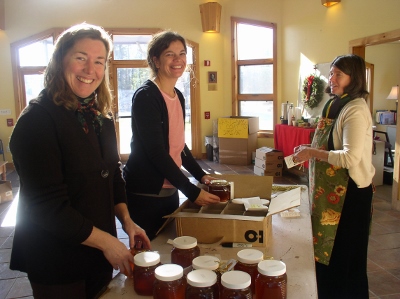 Volunteer support is essential to the success of the Lake Champlain Waldorf School. By offering your time, energy, and talent, you not only get to experience joy of generosity, you also create community, build lasting relationships with other parents, and model the importance of service to your children. Volunteering enables you to be an integral part of a vibrant community. Get started today!
Volunteering in Your Child's Class
Supporting your child's teacher and class is a wonderful way to be involved in the school. Speak to your child's teacher directly about his/her needs. The teacher may need help during a celebration, on a field trip, or preparing for the class play.
Fundraising
LCWS is a non-profit. Each year, the Development Office organizes fundraising events including the Rummage Sale, the Holiday Fair, and the Spring Benefit. Parents enjoy volunteering for these events as a wonderful way to support the school and get to know one another. Contact Lisa Espenshade to learn more. To volunteer for the Spring Benefit, please Click Here.
Enrollment
Support our Admissions team by joining the Enrollment Committee, or volunteering to help organize and run Enrollment events including open houses, observation mornings, Michaelmas or Mayfest. We have on-going and one time projects to fit your interests and availability. Contact Pam Graham to learn more.
Parent Outreach
The Parent Outreach Committee helps organize monthly parent education evenings on a variety of topics and activities. They support Halloween, the Life of the Child Conference, and offer a helping hand during Admissions events. Sign up today! Contact Pam Graham to learn more.
Board of Trustees
The Board of Trustees is a vital component to the health of our school. Sub-committees include: Building and Grounds Committee, Development Resource Committee, Committee on Finance, Enrollment Committee, and the Tuition Scholarship Committee.
Administrative Support
The administrative team at LCWS always appreciates assistance from parent volunteers to help with mailings, data entry, and other day to day tasks. If spending time at the school and working in the office appeals to you, let the front desk know.
Building and Grounds
LCWS's Turtle Lane Campus is situated on a 22-acre land preserve in Shelburne, protected by the Nature Conservancy. The two buildings located there, along with the High School campus in Charlotte, require regular maintenance and care.