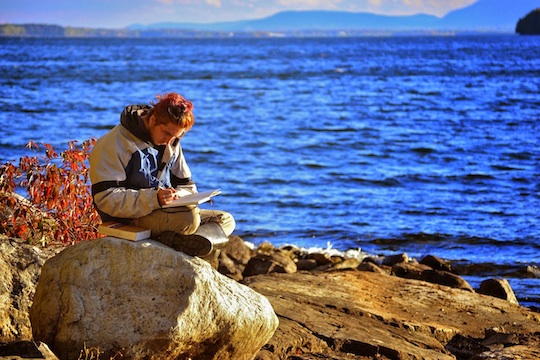 Welcome to the Lake Champlain Waldorf School. If you are looking for an education that is unlike any other, we hope you will check out LCWS. And we hope you will take time to think about what you want in a high school.
Here we believe that learning how to learn, and learning who you are, are as important as learning about a particular subject. Our students receive a rigorous education and go on to excellent colleges. But we are even more interested in the fact that they become fully rounded people who want to take responsibility for themselves and the world they live in.
The proof is in our alumni: our students are working on the sustainable food movement, in environmental administration, and in immigration law. They are making art for a living and teaching high school. They are passionate about what they do, and see themselves as authors of their own lives.
If that sounds like what you want too, please read on. Explore our website, but even better, please visit. We'd like to show you the difference first hand.
What makes a Waldorf education unique:
• A focus on experiential, hands-on learning first, with opportunities for students to create theories out of their own observations (and then to learn what others have observed and theorized).
• An honors curriculum for all students. Everyone at a Waldorf school takes philosophy, physics, and calculus, along with many other subjects, as part of our deep and rich honors-level curriculum. We require this because everyone can, and should, learn how to think from many different perspectives.
• Arts integrated into all subjects, as well as a separate curriculum exploring the visual, musical, practical and performing arts. We value the arts because they are central to what is means to be human, and because they help students find balance in themselves.
• A community that needs each of its members. We work together, camp together, and depend on each other. We expect our students to give back, taking on more responsibility for the well-being of the school each year that they are here. We also require that students look outward and think about how they want to contribute to the wider world—and to start doing that in large and small ways now.