Waldorf education develops students who think critically, act ethically, communicate clearly, and problem solve well – in short, the kind of people our world needs today.
While building a rigorous academic foundation, Waldorf education takes an innovative approach to educating the child. Teaching is holistic, with beauty and creativity infusing all subjects. Art, music, movement and language are emphasized equally along with science, math and English in the curriculum. Our goal is to teach children how to learn, and to cultivate in children a life-long love of learning.
Waldorf education is the largest and fastest-growing nonsectarian educational movement in the world, recently spreading to Eastern Europe, Russia, Japan, Africa, India and South America, with over 2,000 schools and kindergartens worldwide.
---
Rudolf Steiner: Founder of Waldorf Education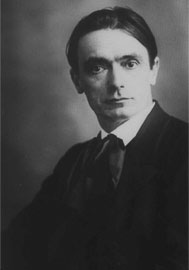 Waldorf education is based on the work of Rudolf Steiner (1861-1925), an Austrian-born philosopher, artist, scientist and teacher. The first Waldorf School was established in Germany in 1919, after Steiner was asked to create a school in the wake of World War I. The vision was to pioneer an education that would help the world create a just and peaceful society, in which people understood themselves and others well enough to work together. To meet that challenge, Steiner crafted a curriculum to educate the whole child: intellectually, emotionally, physically, and spiritually.
Born in Austria in 1861, Rudolf Steiner studied sciences at the Technische Hochschule in Vienna. As a young man he edited the Weimar edition of Goethe's scientific writings and received his doctorate in philosophy. Rudolf Steiner's first major work, The Philosophy of Freedom, appeared in 1893 and established the foundation for the world-view known as anthroposophy.
In the early decades of the twentieth century, Rudolf Steiner became increasingly well-known as an author and lecturer. Truly a "Renaissance man," he developed a way of thinking that he applied to different aspects of what it means to be human. Over a period of 40 years, he formulated and taught anthroposophy, a path of inner development or spiritual research. From what he learned, he gave practical indications for nearly every field of human endeavor. His works include over 50 books and approximately 6,000 lectures on philosophy, the sciences, history, religion, medicine, agriculture, the arts, and education.
The foundations of Waldorf education were laid by Steiner in 1919. At the end of World War I, Emil Molt, director of the Waldorf Astoria Company in Stuttgart, Germany, asked Steiner to found a school for the factory workers' children. Because of its philosophy and its innovative methods, the original Waldorf School quickly gained international recognition and inspired the establishment of new Waldorf schools in Germany and many other countries.
Waldorf Education approaches all aspects of schooling in a unique and comprehensive way. The curriculum is designed to meet the various stages of child development and Waldorf teachers strive to transform education into an art that educates the whole child—the heart and the hands, as well as the head.