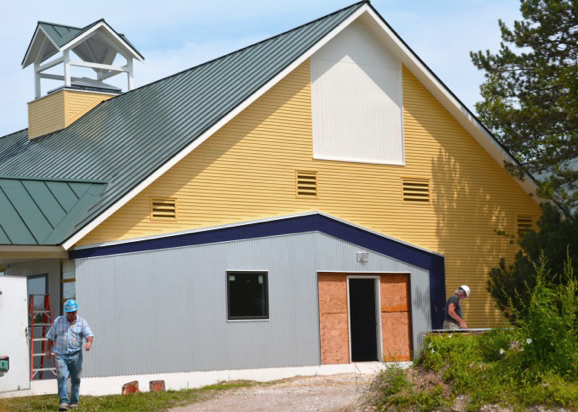 August 1, 2014
Construction continues on track at the our new high school campus on Bostwick Road. If you have driven by you have seen the parking lot filled with construction workers' cars and trucks (weekends as well); it is an impressive work zone for sure! Here's a brief update on progress:
— The interior is almost finished; walls are painted (beautiful colors!).
— New, energy-efficient windows have been installed throughout the building. The views are the same: stunning!
— The new exterior clapboards are almost completely painted, and we have kept the building's original yellow color, interspersed with a modernizing metal cladding.
— A new entrance facade is finished (the large glass double-doors will soon arrive). Future construction, when funds allow, will include an awning.
— The elevator is installed.
— Flooring and trim are being installed next. We are using a combination of cork, marmoleum, and carpet.
We are on target for opening the first day of school. To make that happen, and to keep on schedule, there will be a couple of work parties up ahead in early August. We are calling this "The Great Clean," and really need volunteer help with tasks like vacuuming, waxing, and washing. More details coming.
We are delighted that we have met our fundraising goal, but new expenses are still coming in. Contributions to the construction project are still very much welcomed and needed. Please contact Lisa Espenshade: lisaespenshade@lakechamplainwaldorfschool.org information, or donate online.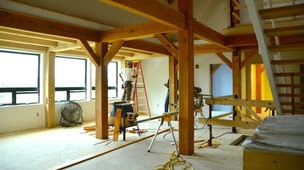 The Student Lounge, at the heart of the building. Reconfigured stairs will be installed.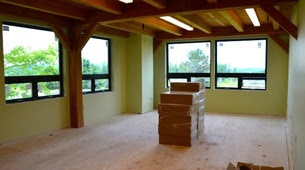 A Main Lesson room in the north west corner, painted a light leaf green.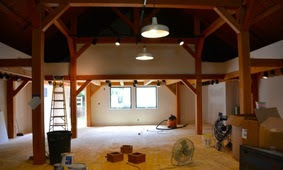 New windows on the south side of the large community room.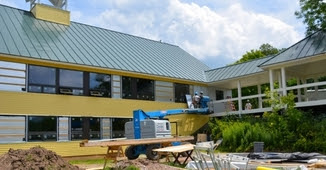 The west facing exterior.
If you are interested in learning more about our high school, contact Pam Graham, (802) 985-2827 ext. 12 to schedule a tour or learn more about our curriculum and student life.